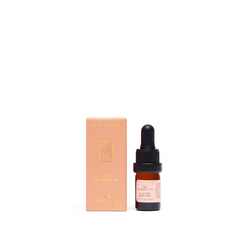 Renew arousal. Relax Muscle Spasms. Reduce Inflammation. Repeat until satisfied
We suggest using this CBD Intimacy Oil for lubrication, greater arousal, increased sensitivity, vaginal dryness, menopausal discomfort, dry skin and as a whole body massage oil.

Calendula is the primary herb in Kiskanu's CBD Intimacy Oil. The organic, cold-pressed oils of sunflower, coconut, and jojoba are blended for a natural emollient that will hydrate your cells and keep your most sensitive areas slippery, happy, and healthy. They use sun-grown hemp CBD in order to reduce inflammation, relax muscle spasms, increase blood flow and enhance sensation. This Intimacy Oil is an excellent way to explore different sensual avenues with yourself and your partner(s).
Read a review by journalist and modern mystic Emma Wright on this product here