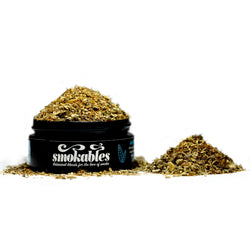 Smokables
Bittersweet Herbal Blend
Botanical blends for the love of smoke
Unlike its namesake which leaves you with feelings of regret after a sweet experience, this earthy blend will not dissapoint.  It can be smoked (or vaped) as is or blended with your favourite flower. These food-grade herbs are carefully blended to a low humidity smoking sweet-spot, allowing for a smoother smoke and more pronounced flavour.  
The bittersweet blend contains sage, mielie silks, liquorice and lobelia.  These botanical blends are 100% nicotine-free. 
Contains 20g of smokable blend (or approx 40 hand rolled cigarettes)
How to use it
Combine one pinch of flower with 2 parts of your smokable blend of choice.  
Smokables comes in 3 other flavours, view the complete collection here