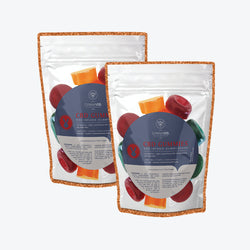 Sleep easy duo subscription
Make sure your sleep is consistent and your dreams always within reach with a monthly supply of 2 packs of our best-selling CBD Gummies.  

There are 15 gummies in each pack, so if you opt for 2 packs a month, you'll stay sorted with a gummy a day to keep the insomnia at bay! 
Simply decide how many gummies will keep you snoozing, then choose the length of subscription you want (3, 6 or 12 months) and click Subscribe.
Best part? You order upfront but pay monthly: think of it as the subscription that keeps on giving but won't break the budget.
Each gummy contains 10mg of certified Broad Spectrum CBD, giving you the additional benefit of all of the other naturally-occurring compounds found in the original cannabis plant. Sleep tight, sweetpea!
Strengths: 150mg CBD // 15 Units // 10mg per Gummy
Ingredients: Certified Broad Spectrum CBD, Sugar, Glucose Syrup, Gelatin, Corn Starch, Citric Acid, Flavouring (natural & artificial food flavouring), Colourants (natural & artificial food colouring), Glazing Agents (Beeswax (E); Candelilla wax (E); Carnauba wax (E)).
CBD Extraction Method • Supercritical CO2 Extraction
Manufactured • GMP Certified Facility
Recommended Use: Start with 1 Gummy and wait for 10 – 15 minutes before increasing the dosage.  Each Gummy contains 4mg broad-spectrum CBD. 
Store in a cool dry place.
Warning: They can easily be mistaken for sweets so please be sure to keep them out of reach of children.