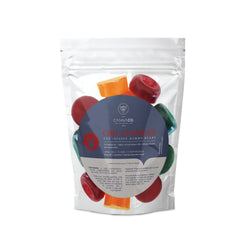 These CBD edibles are the ideal on-the-go, hassle-free way of getting your daily dose of broad-spectrum CBD.  Not to mention, really delicious.
Note: What does broad-spectrum CBD mean? It means that the extract features 80+ naturally occurring phytocannabinoids plus Bioflavonoids, Terpenoids, Phyto-Actives, Amino Acids, Omega-3, -6 and -9's and other compounds of the original plant in every sweet bite.
Strength: 150mg CBD // 15 Units // 10mg per edible
Ingredients: Certified Broad Spectrum CBD, Sugar, Glucose Syrup, Gelatin, Corn Starch, Citric Acid, Flavouring (natural & artificial food flavouring), Colourants (natural & artificial food colouring), Glazing Agents (Beeswax (E); Candelilla wax (E); Carnauba wax (E)).
CBD Extraction Method • Supercritical CO2 Extraction
Manufactured • GMP Certified Facility
Recommended Use: Start with 1 Gummy and wait for 10 – 15 minutes before increasing the dosage.  Store in a cool dry place.
Warning: They can easily be mistaken for sweets so please be sure to keep them out of reach of children.