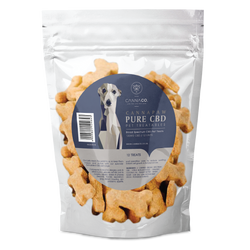 Treat your dog with these easy to administer dog biscuits.  CBD can help your favourite pooch with anxiety, joint pain, inflammation, digestive issues, stiffness and lack of appetite.
Strength: 12 Units // 120mg Certified Broad Spectrum CBD
Recommended dosage: 
• Small Dogs  //  1 treat
• Med Dogs  //  1-2 treats
• Large Dogs  //  2-3 treats
The dosage might be different for each individual pet depending on size. It is recommended to start with a low dosage and to work up to a dosage that works best.
INGREDIENTS: Broad Spectrum CBD, Organic Coconut Oil, Peanut Butter, Wheat Flour, Baking Powder, Eggs, Low Salt & Low Sodium Beef Stock Powder, Potassium Sorbate, Citrus Bioflavonoids